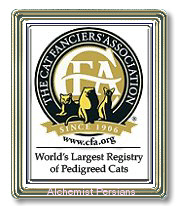 My mission: Alchemist is the CFA registered name of my cat family. All Alchemist cats/kittens are "pure" Silver and Golden Persians meaning that there are no Himalayans (from crossing Siamese to Persians) or hybrids from those matings (referred to as CPCs or Color Point Carriers) anywhere in their pedigrees. The majority of Silver and Golden Persian breeders don't care about the purity of their bloodline as long as their cats win at the shows but I do care. To me, there are more important things than collecting ribbons and titles. We all have a purpose for what we do and preserving the purity of Silver and Golden Division is what I and a handful of other breeders are doing for the future of CFA.

CFA is an ancestral registry and register cats by geneotype; meaning they are registered according to their inherited genetics whereas other registries register cats by phenotype which means what a cat looks like in spite of its ancestry. Since Siamese genes can be carried recessively for an infinite number of generations, cats with Himalayans anywhere in their pedigree display a 3000 CFA registration prefix to alert us to their Siamese heritage. Far from popular and uneducated beliefs, this is not just a concern with the colorpoint gene; it's about bringing a different breed of cat into the Persians and then allowing their hybrids to take over the entire Division.
Alchemist cats/kittens do not have any Exotics in the bloodline either. Cats with Exotics (from crossing American Shorthairs to Persians) in the pedigree have a 7000 CFA registration number. Other than the Alchemist bloodline and a handful of others, most Silver and Golden Persian bloodlines have been adulterated with a Siamese or American Shorthair heritage thus producing cats/kittens with either a 3000 or 7000 prefix. Although cats with 3000 and 7000 numbers look like "pure" Persians, the pedigree tells a different story. The results of these questionable breeding practices has made "pure" Silver and Golden bloodlines rare and valuable to the professional breeder. All Alchemist Silvers and Goldens have the correct CFA registration prefix for Silver and Golden Persians as noted below:
| | |
| --- | --- |
| Chinchilla Silver and Shaded Silver.......................0130, 0131 and 0132, 0133 | |
| Blue Chinchilla Silver and Blue Shaded Silver....... 0128, 0129 and 0156, 0157 | |
| Chinchilla Golden and Shaded Golden..................1170, 1171 and 1172, 1173 | |
| Blue Chinchilla Golden and Blue Shaded Golden...1074, 1075 and 1076, 1077 | |
In addition to having the correct registration prefix that denotes the purity of the bloodline, most Alchemist Silvers and Goldens are color bred; meaning they have no Solids, Tabbies, Smokes or Bi-Colors behind them for at least 5 generations. The qualities of having correct registration numbers and being color bred are becoming extremely rare in the Silver and Golden Division. Therefore, with preservation in mind and one eye fixed on the future well-being of the Division, Alchemist cattery is striving to preserve the history and purity of Silvers and Goldens for future generations of breeders.
For more information about preserving the Silver and Gold Persians,
and see the alarming statistics, visit the
Project S.O.S. website.
About me: Over the years, my home has been meticulously inspected by several licensed Veterinarians and has continuously awarded the prestigious title of Cattery of Excellence under the guidelines and recommendations of the Cat Fanciers' Association (CFA) since my first inspection in 1996. To this day, we continue to maintain the Cattery of Excellence standard set forth by CFA. I registered my first cattery name, Sweet Lorien, in July of 1990 when I started raising Smoke and Cameo Persians. In August of 2000, I registered the cattery name Alchemist. Preferring the lighter colors and still wanting to breed for tipped coats, I began the process of transforming my breeding program from Smokes and Cameos to Silvers and Goldens.
Our home is a loving and cat friendly place, happily settled in North Georgia. Kittens are raised "under foot" and at 10-12 weeks of age, they are ready to go live under your feet. I take pride in how I raise and maintain my kittens and adult cats and encourage you come visit us in person before making a decision from where to purchase a kitten for your family.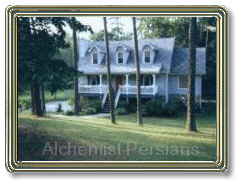 All of my cats and kittens are kept strictly indoors in a home environment to keep them safe and healthy and I expect you to do the same after acquiring one of my kittens or cats. All of my cats live in the heart of my home; never in a basement, garage, or outbuilding. I do my very best to give each one of my cats the love and companionship they need to thrive.
This is not a business, nor is it how I make a living - these cats are members our family; raising and showing them is done solely for my own personal pleasure. Although I strive to create cats that can be competitively shown at CFA sponsored shows, I frequently have kittens that do not meet the CFA show standard (traditional doll face kittens) and offer them for sale as pets. All pet kittens are sold with a written health guarantee, a spay/neuter agreement, and have all shots appropriate for their age.
I am content to have only a few, select cats and although I will always breed traditional shaded and chinchilla Silvers and Goldens, I have added to our color selection the newly recognized colors of Blue Silver and Blue Golden. These ethereal colors represent the dedication and hard work of breeders over the past few years making it now possible for these spectacular cats and kittens to be available to pet homes. Whether you prefer the traditional Silvers and Goldens or the unique Blue Silvers and Blue Goldens, I know you will appreciate the broader spectrum of colors now available while maintaining the traditional shining radiance and sparkle of these delightful cats.
Don't plagiarize. Everything on this website (photos, created images, and all information in written form) are considered property of the owner of this website unless otherwise noted. If you see something you would like to take as your own, ask permission to use it; otherwise, it is considered stealing. I will be happy to make images for your website at no charge upon request.